Our behaviours are driven by virtues. A virtue is a behaviour showing high moral standards. If we apply these virtues to our behaviour we can be the very best version of ourselves.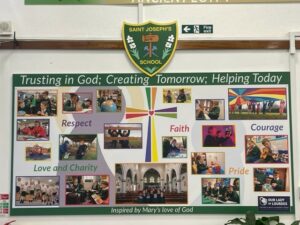 Our school virtues are:
Love and Charity
Within this virtue we demonstrate that we love God above all things and we love our neighbours. Being able to show love and charity enables us to care for each other in our school, community and around the world.
Mark 12:30-31
Love the Lord your God with all your heart, with all your soul, with all your mind, and with all your strength.' 31 The second most important commandment is this: 'Love your neighbour as you love yourself.' There is no other commandment more important than these two."
Faith
Within this virtue we recognise how we believe in God and all that He has said and revealed to us. Being able to show faith demonstrates to others how our actions are influenced by Jesus Christ.
Romans 10:17
So then, faith comes from hearing the message, and the message comes through preaching Christ.
Respect
Within this virtue, we recognise that showing respect to others means that you act in a way that shows that you care about their feelings and wellbeing. Being able to demonstrate respect means that we think about how we can show respect for ourselves, our school and our common home.
Matthew 7:12
So whatever you wish that others would do to you, do also to them, for this is the Law and the Prophets
Courage
Within this virtue, we recognise that courage is about making good choices in the face of fear or obstacles. Being able to show courage means that we understand courage doesn't mean fearlessness. It means we do not let fear hold us back from exploring new opportunities, developing our skills, and doing what is right.
Joshua 1:9
Remember that I have commanded you to be determined and confident! Do not be afraid or discouraged, for I, the Lord your God, am with you wherever you go
Pride
Within this virtue, we recognise that having pride means that we try hard to present ourselves and our work as best as we possibly can. Being able to demonstrate pride means that we want to show others that we care deeply about how we present ourselves and our work. We can also show pride by attending school every day and trying hard to improve our learning through homework and reading in our own time. Showing pride is not about boasting but being proud of your own actions and words.
Proverbs 16:3
Ask the Lord to bless your plans, and you will be successful in carrying them out.